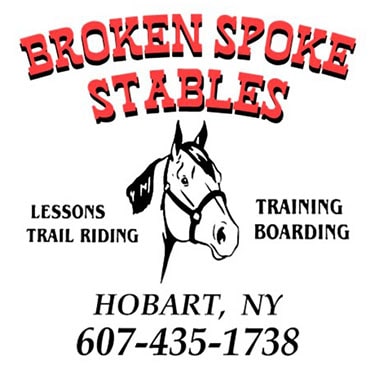 About Us
Broken Spoke Stables is owned and operated by Christy and Donald Cole. They have been in business since 2000 and enjoy every day and every challenge that walks through the barn door. Everyone that visits the barn is treated as family and we can not wait to have you stop by! Please call 607-435-1738 to make a reservation. All rides are by reservation only and secured by your credit card. 12 hour cancellation policy by phone only. When booking a reservation your credit card will be charged full price of ride if reservation isn't cancelled with in 12 hours prior to your scheduled reservation.
The stable is located on my family's century old farm that dates back to 1790. When our family first settled in this valley, our farm was a relay station for horse drawn mail. We are proud to have had the farm for so many generations and enjoy sharing this beautiful valley with others.
Our Facility
We have several beautiful and lush pastures! We also have miles upon miles of breath-taking trails to ride on. If you're in the mood to improve your riding skill we also have a large outdoor arena equipped with jumps and barrels and other fun obstacles! On a hot summer day, you could maybe even take a dip in the pond!
We offer activities such as trail rides into the woods, lessons for those who like to learn about horses from the ground up, and boarding and training for those who have their own horses. We also rescue horses who need rehabilitation or retraining. All activities are open to locals and visitors to our wonderful Catskill Mountain area.
Horses are super special animals and everyone should have a chance to develop a relationship with them. Earning the trust of a horse can be especially therapeutic for people with a variety of psychological or developmental issues, from veterans with PTSD to children on the autism spectrum. Equines also provide exercise and a daily release from stress. and exercise. We also offer an adoption and rescue program at our stable to help the needs of horses that need a second job. We adopt and retrain horses to help them find a lifelong future home. We would like to expand this facility so we can help more horses and clients. We are located close to the Roxbury Motel and wedding venues as well as the Hobart Book Village, the vibrant town of Delhi, with its historic homes, arts and culture venues, the Catskill Scenic Rail trail, and miles of Catskills High Peaks.